Babes, it's hard to believe that just a few weeks ago I was in Korea and Japan exploring their beautiful cities and culture. It was a total pinch me moment, and I still can't believe that I was able to visit both. While in Japan, I had the most beautiful stay at the Saka Hotel in Kyoto. If you know me, then you know visiting Japan has always been on my bucket list and I'm so glad that I managed to squeeze Kyoto into my travel plans. I honestly didn't have much knowledge on Kyoto, but was convinced to go, as my daughter Xia said it was her favorite place to visit when she went to Japan seven years ago. 
Formerly Japan's capital,  Kyoto is one of Japan's oldest cities and is full of historical and cultural significance. I was also wanting to have an "Onsen" experience, which luckily Kyoto is known for as well as it being special to Japan and their culture. If you don't know what an onsen is, it's a natural hot spring, which typically have inns or hotels that provide services for their use. When looking for somewhere that could accommodate a large party as well as all our other wants, we were recommended the Saka Hotel. We booked our stay via Japanican.com as it allowed us to bundle our room with meals included. 
Located within walking distance to the famous Kiyomizu-Dera temple, the Saka Hotel combines modern luxury hotels with the traditional Japanese "Ryokan". A ryokan is a Japanese inn that offers public baths and traditional style rooms, clothes, and food. Upon arrival at the Saka Hotel, I was absolutely in love. The architecture and décor was to die for, minimal but still incorporated traditional Japanese aesthetics. We were greeted by the wonderful staff who gave us fans, welcome tea, and snacks while overlooking their gorgeous garden outside the lobby. When we arrived our rooms weren't ready, but the hotel staff kindly took our bags and placed them in our rooms once ready while we headed out to explore the city. 
As I mentioned before, the hotel is located in a great location. 15 minutes away by taxi from Kyoto station, we took the "Shinkansen" or bullet train to go from Tokyo to Kyoto, totaling about 2 hours to travel. The hotel is only a 5-10 minute walk from Kiyomizu-Zaka street, the famous street that leads to the Kiyomizu-Dera temple. This street showcases Japan's amazing heritage, as it boasts Edo-era architecture, streets filled with people wearing kimonos and of course amazing shops and vendors that sell items unique to Japan. Of course the city has a ton of other attractions, and to get to them we opted for a taxi which cost around 2-3 thousand yen or $15-22 USD. Of course there are buses or trains, but for the purposes of our overnight adventure, a taxi suited our needs better. 
After a day of exploration, when we arrived back at the hotel we immediately went to our rooms to change for our dinner reservation in the restaurant. We changed into the outfits they provided which are called "yukata". Yukata are similar to kimonos in that they are robes, except they are lightweight and meant to be casually worn in the ryokan as part of the Japanese bath house experience. I thought this was super neat, as we were encouraged to wear them while we were at the hotel, as well as the wooden shoes and socks they provided. It was so cute to see everyone get into it and the whole group wear their yukatas. This was definitely one of my favorite aspects of the hotel's offerings! 
When booking for the hotel we chose to get dinner and breakfast included, and we were able to choose between a Wagyu Beef Shabu-Shabu Hot Pot Kaiseki Course Dinner Plan or a Seafood Kaiseki Course Dinner. All of the ladies and Miles (May's boyfriend) opted for the seafood dinner, while Norm, Josh and Lukas (Carol's family) opted for the meat course. Dinner and breakfast are served as a set-course meal, and let me tell you it was definitely one of my most memorable dining experiences. Each dish was so rich and fresh, from the sashimi to the tofu dishes. You could taste the thoughtfulness and effort that was put into each dish and I totally enjoyed the whole dinner situation! My favorite dish was the main course, a hotpot with tofu, which seems so basic but it was so good. Their vegetable tempura was bomb, and the miso soup was great as well. I also enjoyed this rather unique dish that consisted of egg custard with miso cream and mushroom. All the food was so delicious and incorporated some of my favorite flavors. I thoroughly enjoyed trying all the new Japanese flavors and dishes.
After dinner we went to the lounge which provided tea, juice, ice cream, etc. and it was the perfect way to unwind after all the food we had just consumed. For an additional 4000 yen per hour, we opted to book the hotel's private bath Tau-yasaka. Let me tell you, the bath was on point! Featuring a shower, powder room, and giant bath it overlooked a pagoda and was truly so relaxing. In order to use the bath, it's customary that one shower before getting into the bath water, so we showered before and then got into the water which felt so divine. One thing you should know is that you don't wear any clothes or bathing suits in the bath so if you're booking for more than one person, keep that in mind. In addition to bath use, they provided water, headbands, and skincare which made the experience feel even more luxurious. If you ever visit Saka hotel, this amenity is definitely worth adding.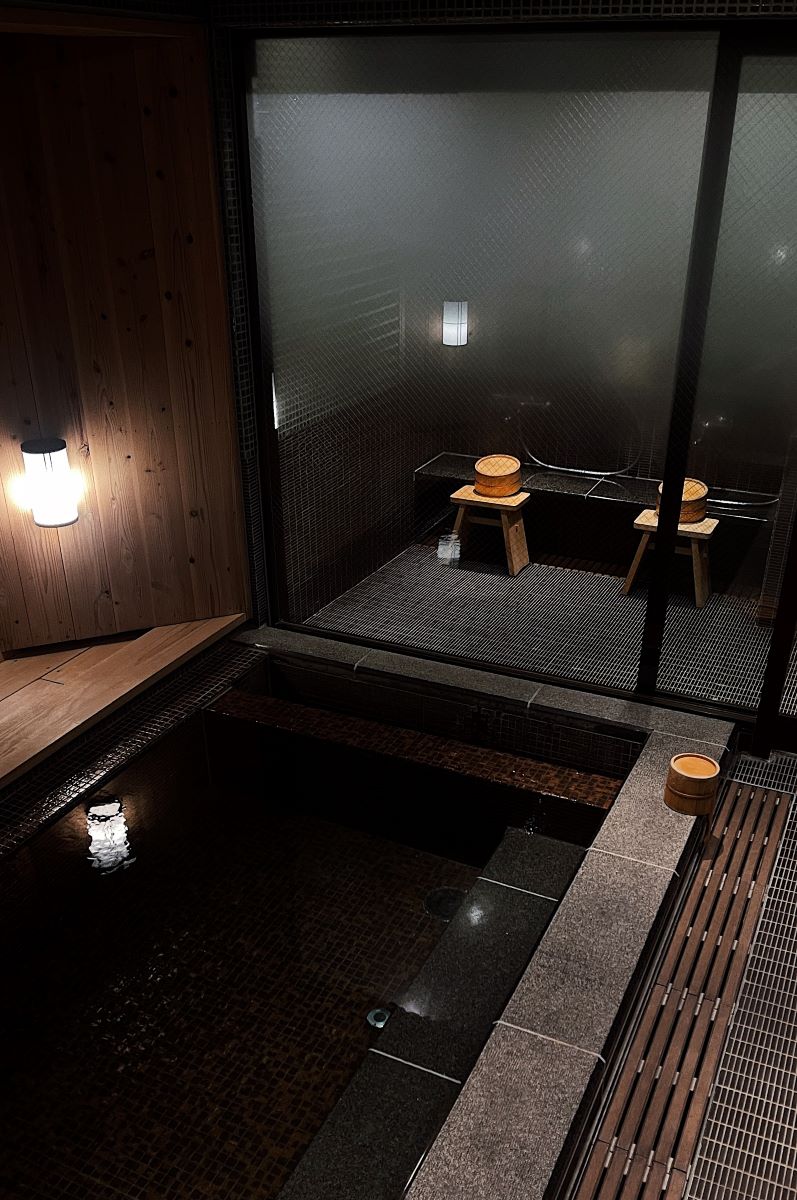 If renting the private bath is not something you're interested in, that's okay, as the rooms come equipped with a few bath options that create a similar vibe. We would have preferred a room with an open air bath but that was fully booked, but our room did have a hinoki wood bath.
Darlings when I tell you these baths are truly one of a kind, I mean it. Not only are they beautiful to look at, but their unique texture provides a different type of bathing experience that typical baths just don't have. The hotel also supplies each room with a bottle of sake to be poured into the bath. I have never heard of mixing alcohol in water, but apparently sake infused water leaves the skin moisturized and supple. Whether it actually made a difference or not, it adds to the overall ambiance and I had fun participating.
While I obviously enjoyed the bath aspect of the rooms, for me the room itself is enough reason to return to this hotel. The rooms all had tatami mat flooring, minimal and modern decor, and mine even had a beautiful terrace. The view from the balcony overlooking the city was truly breathtaking and I'm glad that we opted for this room as it just added to my overall love for Kyoto. If you'll be partaking in in-room dining, you may want to opt for a room with a Horigotatsu, which is essentially a floor level dining table. The table is over a recessed floor, so your legs are dangling below the floor level. During winter, you can turn on the heater to heat your legs. 
For the final part of our overnight stay, we had breakfast again in the restaurant, this time being served a traditional Japanese breakfast. While the hotel offered a western or American breakfast, I was really curious to try the Japanese one. Babes, if you love fish and vegetables, then you'll love a Japanese breakfast. This breakfast included cooked fish, rice, rolled omelet, miso, pickled plum, and a variety of fancy and pickled vegetable dishes. They even served us this delicious juice and hojicha tea, which elevated the meal to a whole nother level. 
Overall my time at the Saka Hotel is going to be so memorable as I got to share the moment with my girls and Carol and her family. Not only was Kyoto stunning, but the hospitality and curated relaxing nature of the hotel was well welcomed and needed. When I visit Kyoto again, I will be looking forward to staying with the wonderful Saka hotel!